---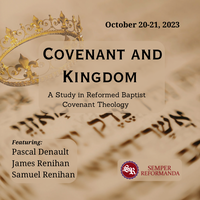 Covenant and Kingdom: A Study in Reformed Baptist Covenant Theology
What is Covenant Theology? How does it inform our understanding of Scripture's story? How does the Reformed Baptist perspective differ from Dispensationalism or from paedobaptist Covenant Theology? How do we as Reformed Baptists view the covenants of Scripture and what does that teach us about the Kingdom of Christ?
Join us October 20-21, 2023 as we study these topics and more with some of the leading Reformed Baptist scholars of our day.
Please select the ticket type and add to cart, then select "Add to Cart" for each ticket in that ticket type you'd like to purchase (ex. select Adult and click 2 times for 2 adult tickets) then select the next ticket type and do the same, then check out and pay.  
Adult (21+) - $70.00
Student (13-20) -  $40.00
Child (3-11) - $5.00
Babies (0-2) - FREE