---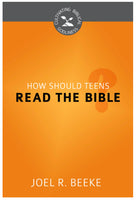 Most Christians know that they should read the Bible, and many have tried, but it is not unusual for people to get stuck, get lost, or get discouraged. Here is a booklet that lays out wise guidelines for how to read the most important book in the world and not give up. Joel Beeke offers many helpful tips on how to benefit from the Scriptures with the constant awareness that our attitude is crucial. Written especially for young people, How Should Teens Read the Bible? Is an extremely practical resource for anyone who wants to read the Scriptures with regularity, joy, and delight.
Contents:
Why Reading the Bible Is Hard Work
Reasons for Reading the Bible
Practical Helps for Reading the Bible
Practical Helps for Studying the Bible
The Joy of Reading the Bible
The Cultivating Biblical Godliness booklets treat matters that are vital to Christian experience, and each contribution aims to address a wide variety of people and circumstances at a fundamental and introductory level. This includes teaching people what to believe in order to practice personal holiness as well as specific directions on how to cultivate biblical godliness in relation to issues that are common to God's people.
Contents:
Why Reading the Bible Is Hard Work
Reasons for Reading the Bible
Practical Helps for Reading the Bible
Practical Helps for Studying the Bible
The Joy of Reading the Bible