---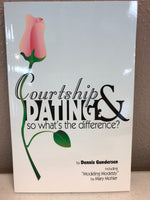 So What's the Difference?
Considered by many the most sensible and Biblical book on courtship in print. Chapters on the right role of parents in their children's choices; on relationships for the purpose of service rather than mere entertainment; on guarded moral protection and accountability rather than total freedom; and on the benefits of waiting for one partner rather than being a "serial dater". And much more.
Includes these supplemental chapters:
Martin Luther: On Parents and Their Children's Marriages
Mary Mohler: Modeling Modesty
Tamika Burns: Modesty, the Best Policy
Kim Shay: Some Observations on Courtship
Martin Bucer: Marriage Without the Consent of Parents
Endorsement
"When someone asks me about materials on courtship, my first recommendation is Dennis Gundersen's. It is a well-reasoned and well-balanced approach which gets the reader thinking in all the right directions." — Harvey Bluedorn, Trivium Pursuit
About the Author
Dennis Gundersen is President and Owner of Grace & Truth Books, and has served as Senior Pastor of two Tulsa churches since 1984.  He is a frequent conference speaker and author also of Courtship and Dating: So What's the Difference?, The Children's Character Building Collection Study Guide and Your Child's Profession of Faith.  He has been married to Naomi since 1976 and they have four adult sons.